Customer Feedback
Proudly Made in the USA

Hand-Crafted in  Tennessee
---
"Feel the Heat for Pain Relief"
---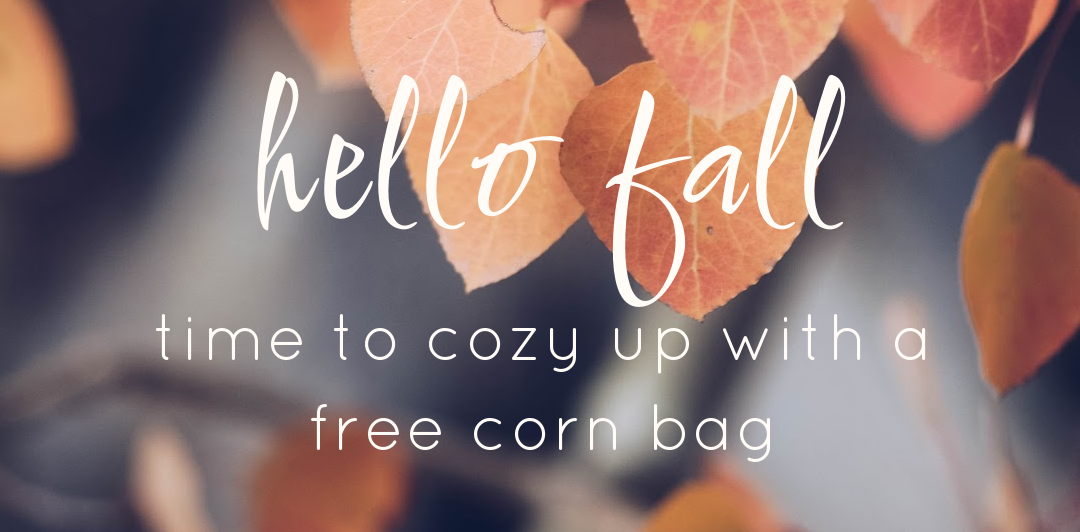 All orders will receive a FREE corn bag ($11.99 value) made from some of our most loved fabrics.  No coupon code needed -- it will automatically be included with your order! 

Happy Fall Y'all!
---
| | |
| --- | --- |
| | Soothing, weighted heat bags are great for pain relief , to relax tired muscles, relieve stress, or warm up those cold feet!  |
Read comments below from customers who wanted to share their feedback.
---
Thanks for your quick shipping on my Corn Bags! I love the neck warmer that I purchased for myself! I also gave some away as gifts and I know at least one recipient who promptly ordered a couple more for herself! Shipping was quick, so I appreciate that! I also love that this is a family-owned, American-grown business!
Blessings,
Suzanne 
---
5 Stars
The corn bags are always beautifully sewn and crafted. I appreciate the removable covers, good selection of fabrics, and the popcorn aroma when heated.
Linda
---
We got them! As usual, we are extremely happy with them! Many, many thanks and God bless you real good.
In everything give thanks.
...Sharon
---
Very happy with my order and have referred other people to your site
...Brenda
---
Great set of bags! Good size and well made. Nice to talk too you folks too! Everyone was happy with their gifts I sent from your store
...Marylee
---
Perfect size. Husband uses it for his calves, it fits perfectly behind the leg.
Loudon
---
Thanks team. I appreciate the product. I've been using them for years and just ordered another batch for me and the in-laws. What a great thing to have, nice warmth has helped me through some tough times; cancer, tough jobs, and cold winters here in San Diego, CA. Yeah! Sometimes it's cold for us beachfolk. :) Thanks again and I wish you so much success!
...Mario
---
Love it! Thanks so much!
...Vicki
---
Love all my corn warmers. Heat them up and put them in bed by my feet!
...Debra
---
I have been looking for these for the past year. I had a corn bag before and gave it to my granddaughter when she had a backache. She loved it as I did. But then I've had a hard time finding another one until I found your website. I love that I can pick my own material, shape and sizes. Thank you for sending some of your business cards. I'll never part again with my corn bags, I'll hand them one of your cards instead. I'm going to copy your business cards to my Xmas cards this year and recommend them to everyone I know. Sure glad I found you!!!!!
Cindy Lou
---
Excellent neck corn bag. Love the colors and pattern. Like dealing with you directly. Very prompt and perfect condition.
...Pansy
---
Excellent!!!
Lorie
---
These made awesome Christmas gifts for several members of my family - many thanks for the easy transaction, fast shipping and for providing such a great product - not any wonder I'm a repeat customer every year !!!
Kathy
---
We are happy with all of the corn-bags. Thank you!
...Laura
---
I love my corn bag! I received one as a gift about 5 years ago and I use it every winter. I just bought a new one because my husband uses it too. I use it in bed to warm my feet and on my shoulders when I feel tense. My dogs love when I leave one on the couch, they snuggle up to them too! I am currently over half way through my first pregnancy and it has been a life saver for my lower back pain!
...Kelly
---
I apologize for not responding sooner.  I was waiting for opinions from those I had given corn bags as presents.  I am pleased to let you know that all of my people have gotten great pleasure and relief from their bags.  A few times I have covered myself with 3 of varying sizes to ease aches and pains.  And I especially am glad that you use corn to fill the bags.
Keep up the good work!!!
...Lorraine
---
I love them so much and I wasn't expecting to get a mini one! My kids are getting them for Christmas so I can't wait to see their reaction tomorrow morning! They will no longer be stealing mine!
Jennifer
---
Terrific! I needed a new corn bag and this is perfect for neck pain, as well as general use. Love your products because my arthritis makes my life painful and heat helps the pain.
...Kathy
---
Very happy with my corn bag as it stays warm a long time and it's big enough to cover my lower back.
Thank you
Mary
---
I really love your bags my husband has bought them for me a couple times. 
...Debi
---
Great product! So glad you're there and my neck thanks you as well.
Dr. Arthur
---
Your product is great!
...Jean
---
Yes we are very happy with our new corn bag!!!!
...Agnes
---
Great product
....Sharon
---
Love it, thanks gonna get another
...John
---
Very pleased...this my 2nd corn bag. Highly recommend!! Thanks!!
Barbara
---
I love them. They were everything I expected.
...Mary
---
You did good. I would recommend your products, and your customer service.
Thank You, WM
---
Love your corn bags!!!! They are great, and made well...Thanks for what you do, and YOU DO IT WELL!
...Jamie
Love it-thanks
...Carole
---
Your corn-bags are amazing. I have ordered them multiple times. Great prices also.  And they make wonderful gifts.
...Ann
---
Hi! The corn-bag was a birthday gift for my daughter. She loves using it and appreciates the natural popcorn smell vs previous scented bags she owned. She's very happy with it.
Barbara
---
Fantastic. Well done and so easy to wash the cover. Thank you.
Donna
---
Repeat customer & always will be 5 STARS
...Brad
---
We love our corn bags. I think this was our third order in the last 8 years.
Thanks
...Karla
---
Thank you for your service and your fine product. My husband is very happy with the one we ordered. It was easy to place the order and it arrived right on date.
We will be sure to let others know about you.
God bless you.
Beth
---
You did great, just as always!
Amanda 
---
Great product. We have already used them several times and they work great and are well made. We appreciate the personal attention and being retired military ourselves, we appreciate your special attention to our great military community.
We have and will continue to recommend your company to friends and neighbors!
Thank you for a very nice experience!
Beckie and Diz
---
Great job as usual!
....Cheryl
---
Have done business with your company several times before. Always convenient and easy! Thanks
...Donelle
---
I love it!
...Mary - April 2021
---
I love all my corn bags . I use the smaller ones for my wrists if I over do them on my job. I use the big one on my lower back which I have always had trouble with.  The smaller long one works well on my neck. I am so pleased with your product.  Thank you
...Jane - April 2021
---
Thanks for shipping DIRECT to our friend for us.  She is fighting Cancer and we know that the corn bag helps relieve pain. We use them daily!
...Dean - April 2021
---
The corn bags are a real comfort, and I appreciate the fact that they arrive sooner than I expect every time.
...Sharon - April 2021
---
Just what I was hoping for!  Thank you. And the face mask I ordered is awesome too.  Thanks again!
...Cindy - April 2021
---
Very good, like the size.
....Stephen - April 2021
---
My whole family loves these bags! My husband was skeptical until his back was hurting after a day of hard landscaping work. Warmed up the bag for him and to say he's a believer now is an understatement. I'm going to have to order more! Thanks for a great product!
...Kristen - March 2021
---
You did just great, as usual.  Service was fast and products were just what I've come to expect from Corn-Bags.com!  Thanks.
....Amanda - March 2021
---
Perfect order. One was plain cotton, the other flannel. Both serve my purposes and were sent quickly. 
...Elizabeth - March 2021
---
We got them in the mail yesterday.  My hubby luvs them!!!

...Stacey - March 2021
---
I am very happy with my purchase.
...Mary - March 2021
---
Excellent!
....Betsy - March 2021
---
My feedback on 9" x 18" Large Warmer Have used this product before. Bought some for my friends too. Great product!
....Ron - March 2021
---
It's very nice!  Retains heat very well. 5 stars!
....Mike - March 2021
---
I love my cornbag! I love the print (dogs) and the functionality of it. Its portable and I can easily take it with me anywhere that I go! These are the BEST cornbags! This is my forth one that I've ordered and won't shop anywhere else! Do not hesitate to order, you'll absolutely love it!
....Kim - March 2021

---
Thank you so much for the beautiful and sturdy Corn Bags. I used one already as a heating pad when I got my Covid vaccine.  Very pleased with the quality!
.....Lisa - March 2021
---
This is my third corn bag...I LOVE them...thank you!
....Will - March 2021
---
Thank you!  I love these!
...Antoinette - March 2021
---
I am enjoying the warmer!
...Gay - March 2021
---
Product is great!
...Michael - Feb. 2021
---
I'm really happy with the corn-bags!
Cindy - Feb. 2021
---
I love your products. They are well made and helpful.
feed back from Garsan - Feb. 2021
---
I bought corn-bags for my entire team at work.  I thought everyone needed a little extra comfort this year. Awesome product!
feedback from Karen - Feb. 2021
---
Love it! 
...Linda - Feb. 2021
---
Absolutely perfect!  This is our 2nd corn bag because we wanted a larger one.  We are already planning these as gifts for Christmas due to the outstanding quality. ⭐⭐⭐⭐⭐
...Larry - Jan. 2021
---
I've bought many sizes over the years for friends and myself. They're always the best- well made, great fabric choices from good people. Thank you!  
...Heidi - Jan. 2021
---
I wanted to leave feedback on my purchase.  I bought a couple 9"x18" bags with covers a while back. I use mine almost daily and I must say I love it. My wife would say the same about the one I bought for her. A couple of weeks ago I bought two more of the large size flannel with covers. One went to my best friend, and the other to my sister in Denver. She just loves hers and made a point of sending info to all her friends. She is 69 and has been undergoing chemo. She says that her corn bag is now her sleeping pill of choice.
So, apparently you have yourself one fine product, and I will continue to be a customer and an advocate for as long as I last! Thanks.
...George - Jan. 2021
---
Extremely happy! Purchased your corn bags as gifts and all recipients are very pleased with the size and quality. Thank you very much!
...Christa - Jan. 2021
---
I love your cornbags! I gave everyone in my family one for Christmas and a friend also. I love mine and use it often! 
...Susan - Jan. 2021
---
Awesome!
...feedback from Roger - Jan. 2021
---
I love the U-Shape corn bag! It is wonderful for headaches. I can place it on my neck or over the forehead when I lay down on my back and it lays nicely on the sides of my face at the same time too.  Thank you.

...Deanna - Jan. 2021

---
Very satisfied with my purchase.
...Jan - Jan. 2021
---
My Mom was very happy to receive new corn bags for Christmas.  Her other set which was purchased from you several years ago needed retired. She uses them every night especially at night when she gets chilled.  She is 93 years old and doing well for her age. She didn't ask for new corn bags but I knew it was time for some. She was surprised!  Thanks from me and my Mom for a great product.
...Helen - Jan. 2021
---
More Feedback....
---
The bags were perfect and were used immediately.  Loved the holiday bear flannel pattern. 
...Erika - Jan. 2021
---
It's great! Perfect size for me, good amount of corn in it & stays warm for a good while. Good quality, would definitely recommend you !
...Camille - Jan. 2021
---
LOVE all my corn bags. My purchase started with the idea to replace my 8 year old collection. Receiving the extra bag per order was so worth it. The Heart shape is most definitely  my favorite with the large rectangular coming in at a close 2nd. Thank you for a wonderful Made in the USA product. 
...feedback from Kimberly - Jan. 2021
---
My wife is very happy with your product.  Good size, quality materials and arrived in perfect condition. Nice job
...Mike - Jan. 2021
---
I loved your corn bag, looks great, lovely fabric, warms well.  I highly recommend your products.
...Raouf - Jan. 2021
---
Perfect size for lap and back warming.
...Terry
---
Love these!
...Lil 
---
All of us are enjoying our neck warmers!
...Mary
---
We LOVE our corn bags and use them everyday , as do our daughter and grandchildren.   They are so well made and the fabrics are lovely.  Thank you for giving such great customer service too!   Wishing you continued success in providing such a useful and durable product.

...Vicki
---
It's a great size.  Little heavier than I expected. (9x18)
...Deb
---
Love my purchase!!  Gave one to my 85 year old mom who loves it too!
Thanks
...Sharon
---
Order A Corn Bag For The Best Microwavable Heating Pad 

 The facts show the best reusable all natural microwave heating pads are made of 100% breathable cotton fabrics along with all natural triple cleaned and microwaved whole kernel corn. 

"Feel The Heat For Pain Relief"
---
© Copyright Of Corn Bags Inc.
"Feel the Heat for Pain Relief"