They are great!
by Shannon
(Seattle, WA)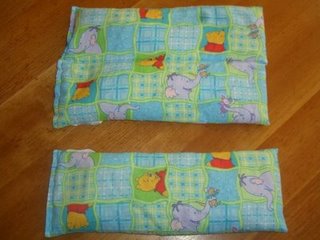 I get cold a lot! I'm constantly wearing socks or bundling up as I walk around the house. I had the opportunity to review the Handcrafted Warmers from Corn Bags. They are great! I received warmers in an adorable Winnie the Pooh pattern. You can use the warmers (aka heat bags) on your neck, back, or tummy (for those annoying cramps). You can even use them to keep you warm.

I simply heat my heat bag in the microwave for 2-3 minutes and then hold it in my lap or put it at the end of my bed. No need to turn on the heater when you have Heat Bags.

Corn Bags has different patterns you can choose from, as well as different sizes. You'll get great customer service when you work with Corn Bags. They test and inspect their products prior to shipment to insure you get the best product possible.

So, if you're looking to try heat therapy or to reduce your electric bill, give Corn Bags a try!

Mommy Files
Join in and write your own page! It's easy to do. How? Simply click here to return to Corn Bag Reviews.